Jasmine, Mist Faerie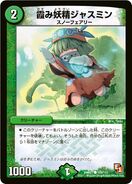 - When you put this creature into your battle zone, you may destroy this creature. If you do, put the top card of your deck into the mana zone.
Faerie Life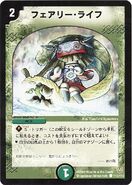 - Shield Trigger
- Put the top card of your deck into your mana zone.
Hi everyone!! I'm back with a new article, this time being Jasmine vs Faerie Life (as suggested by Ian)

and yes, this time the cards have the exact same effect, you could say it's just that one is a creature version, while the other is a spell version. In this case, which one should you use and what are the pros and cons of using each one? Well, I will be addressing the concerns of each card in this article!
I will begin on what the release of Jasmine has brought to the table then. Personally, the first thing that came to mind was Revive Hole. I believe many of you have had to cast Revive Hole to bring out your desired psychic with no creature in your graveyard..which is pretty wasted I feel. With Jasmine, you can rest assured that you won't be wasting your Revive Hole, at least you have an extra card to charge as mana next turn or you can enjoy more mana acceleration!! There are quite a couple of other reasons too, such as Mist Rias and Hustle Castle which is pretty much self-explanatory. And there's my favourite Unified Shachihoko Kaiser too

At the same time, if you draw it during the later parts of the game, it can just be an extra creature to whack your opponent with. Oh, and of course, Jasmine escapes Batou Shoulder and Lost Mind Torture. There are many other reasons that makes Jasmine a better choice over Faerie Life too, that's for you to find out

At this point of time, I can imagine many of you taking out your decks right now and replacing the Faerie Life with Jasmine already..but do hang on!! There are also reasons why you should keep your Faerie Life.
I guess the choice between Jasmine and Faerie Life can boil down to your decktype too. And maybe the current meta. If you are especially weak against rush, I recommend keeping your Faerie Lifes. That's because it is a shield trigger, you never know when that one extra mana from your shield trigger-ed Faerie Life can help you reach your Bolshack/Emperor Hole to survive the onslaught!! And of course, if you have spell recursion, like Chief De Baula or Dravita Hole, it is obvious that you should keep your Faerie Life instead of replacing them with Jasmine.
Yes, Jasmine is indeed better than Faerie Life in my opinion, but like I said, do evaluate the current meta and your decktype before you make your choice!!
Alright, that's all for today i guess, do comment below if you have any suggestions/queries. Would greatly appreciate it if anyone can further evaluate on the comparison if I have left anything out!! Thanks everyone then, till next time, this is Sequinox, signing off ~
Admin




Posts

: 9


Join date

: 2012-10-15


Age

: 24


Location

: Singapore



LOLS FOR THOSE INDECISIVE PPL FLIP A COIN AND DECIDE!



Posts

: 5


Join date

: 2012-10-17



There are ways to counter the use of Jasmine and Faerie lifes.
People can counter jasmine with Rose castle or Funk, Guard of Hope.
While rose castle can be able to fortify in early game, it may counter your mana acceleration if using jasmine.

Faerie Lifes can be countered with Queen Alcadeias or Spell Del Fin.
However, these are large creatures that usually comes out only during late games.



Posts

: 1


Join date

: 2012-10-26



rose castle/funk does not stop jasmine!! you can trigger jasmine's effect before rose castle/funk's comes in. turn player priority...just like how you can use jenny's effect even though rose castle/funk is on the field.
Admin




Posts

: 9


Join date

: 2012-10-15


Age

: 24


Location

: Singapore



Similar topics
---
Permissions in this forum:
You
cannot
reply to topics in this forum